Welcome to Purrfect Friends Cat Rescue Home Page!

We are a non-profit 501(c)(3), all volunteer group of foster parents for cats and kittens in Greater Cincinnati
---
---
Meet Our Featured Cat- Milkshake!
Meet Milkshake

Milkshake is a beautiful kitty with the softest fur! She was abandoned at a house where the people who had been living there were using drugs and blowing smoke onto her and because of this abuse she developed a skin sensitivity but has not had any problems with it now that she has found a food that keeps it in check. The people who moved in had a dog who was not used to kittys so she was brought to her foster mom's house. Milkshake has adapted to her foster moms' dogs and developed the attitude that some dogs can be kitty friendly and those are ok to share a forever home with.

Milkshake would prefer a home where she doesn't have to share her new family with another cat. She likes to lay beside her foster mom and cuddle in bed and her purr is mesmerizing!! She doesn't like sudden movements or loud noises so small children may not be the best thing for her. Milkshake loves to chase the laser pointer and jump up and down on the bed when her foster mom comes into the room!! Her sweet kind heart will make a great addition to your life and she can't wait to have her own forever purrfect home!!! Applications can be completed on our web site: www.purrfectfriendscatrescue.org/adoptform.html. Born May of 2014, adoption fee $50. Spayed, microchipped, vaccinated, negative for fiv/felv.

Thank you!
---
I found a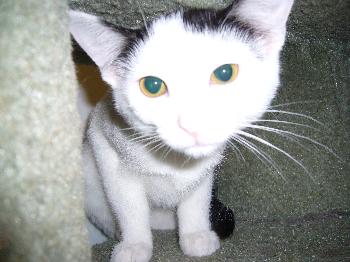 now what do I do?
Read our step-by-step instructions for what to do if you find a cat.
---
Help us help more cats! It is easy to support Purrfect Friends. See our Fundraisers Section or Make A Donation
You can donate now through PayPal - All donations are tax deductible.
---
Our thanks to these partner organizations
Thanks to snehagraphics.com for creating our new logo!